Specialising in Healing Massage for Stress and Anxiety
Hi, I'm Andrew,
​
Stress and anxiety can rob you of the joy in life. They are debilitating, exhausting, and sometimes paralysing.
As part of a holistic approach, massage can alleviate your symptoms and make you feel whole, integrated and relaxed.
​
My primary tools are Esalen massage, as well as chakra balancing, which facilitates you to feel nurtured, your energies balanced, and allows you to "breathe" again. The results are profound and memorable.
Please call me (021 132 4881) with any questions or to make an appointment. I look forward to meeting you!
​
​
"Nothing is more essential to lasting positive change than self-awareness; it is the prerequisite for self-control. Bodywork is a direct and effective way to increase this awareness within an individual."
Deane Juhan
​
Esalen massage works as an effective relief treatment by reducing stress hormones in the body. Using fluid movements, as found in traditional Swedish massage & Hawaiian Lomilomi, the massage focuses on the body's overall energy as well as the musculature.
​
The massage is largely intuitive & is sometimes described as a 'moving meditation'.
"Thank you, Andrew, I was grateful to receive such a thorough, gentle, respectful healing massage. Your intuition was spot on and the flow was perfect. I appreciated your professionalism and respect. I felt much more relaxed, calm and well in myself."
Courtney B
​
"My first massage with Andrew was a totally new experience. Though it took a while for my mind to settle I soon understood what the massage was telling me, which was to slow down, relax, and enjoy the variety of techniques that Andrew brought to our session. I truly felt calm and comfortable at the end, and have since had three more massages, with more to come I hope!"
Philip S
I'm a certified Esalen Massage practitioner, having trained at the Esalen Institute on the Big Sur in California.
​
From being a successful Interior Designer to becoming a passionate Bodyworker was a career change for me. As an Esalen massage therapist I am conscious of the connection between mind and body and understand the benefits that massage brings.
"Seriously the best massage technique I've experienced! - firm, yet long smooth motions that are counterbalanced from one side of the body to the other, left me feeling deeply relaxed and reconnected with my body. Tension, aching joints, sore muscles slowly melted away... what a gentle and effective massage. Thanks heaps, Andrew!!"
Hayley G
​
Massage environment
I work from home in Parnell, the dedicated massage room is comfortable and private.
I use a natural, fragrance free oil for massage, therefore suitable for people with potential for allergies… or who may react to strong smells.
Clothing
The best way to receive massage is with the body completely unclothed and I will ensure that you are appropriately draped at all times and your privacy respected. Your well-being is important for a positive massage experience, and underwear can be worn to make you feel comfortable.
Receiving massage
The intention of your massage is that it will be a warm, friendly and therapeutic experience, and that I give you the space to relax, unwind and heal within your own space. All you need to do is breathe and receive!
Responses to massages
After the massage take your time to let your body adjust to sitting up before you stand up. Since massage facilitates movement of lymph and toxins it's important to drink water after a massage session.
Confidentiality
I work as a professional therapist, all clients have their privacy respected and any information shared is confidential.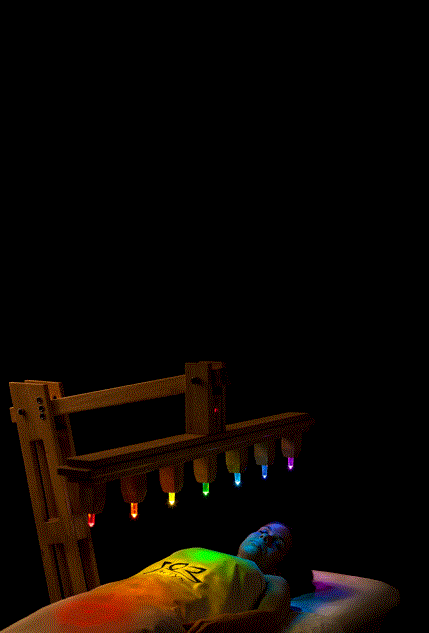 Chakra balancing is a meditative, cleansing experience that opens your energy channels (chakras) creating positive energy, enabling you to be more resistant to negative impacts and relieving mental blocks.
​
The session involves using a wooden stand which has 7 cut crystals through which, when turned on, coloured light pulsates. The crystals are positioned above each of your chakras. Light flows through each crystal, bathing each chakra in the corresponding colour frequency and vibration. Each session is unique, and people report a variety of experiences.
​
During the session, you will remain fully clothed,
I recommend white or light clothing, with your eyes closed and lying face up on a massage table. The sessions can last for ½ hour, 45 minutes or longer, shorter sessions are suggested initially.
​
Before the session starts I help you clarify your intentions. It is through your own developing self-awareness that true changes can occur and the crystal bed and/or Esalen massage can help facilitate that path.
Find out more about Chakras by clicking on one of the icons
"Using the Chakra Balancing at Auckland Restorative Massage was a 'wow' experience! During the 40 minute treatment, I felt very comfortable and relaxed and could feel the energy of the lights working their magic - feels like a sun bath. I left feeling refreshed and energised. My body feels healthier and I had a great sleep! Andrew is warm and welcoming."
Hannah M
Massage
$80 One hour.
x5 sessions = $340 (15% saving)
​
Chakra Balancing
$40/60 per 30/45 minutes session
x5 30 min = $170 (15% saving)
x5 45 min = $255 (15% saving)
​
Please pay prior to appointment
to account no: 030502 0292306 00.
Or ensure the correct amount for payment is ready at the end of the session.
Contact - make an appointment
Hours are generally between 9-7 weekdays and weekends by appointment.
Please call 021 132 4881
​
Cancellations: within 24 hours of appointment charged 50% of the full fee. 4 hours or less, the full fee is charged.
Location
I work from my Parnell home, which is just off Gladstone Road, near Parnell Primary School. The dedicated massage room is comfortable and private.
Prior to your first appointment please fill out our Client Intake Form by clicking on the button.
​
Have a look at our Facebook page by clicking on the icon.